About Once Upon A Chocolate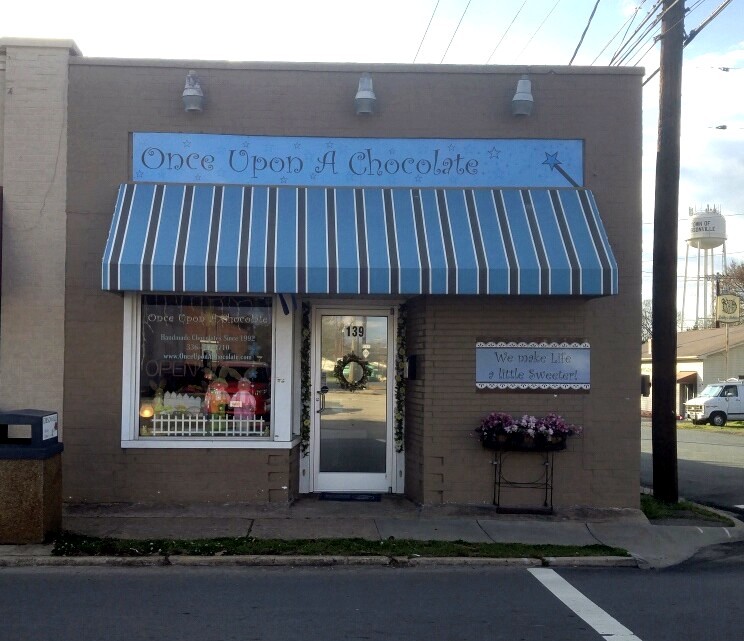 Welcome to Once Upon A Chocolate!
We make our chocolates by hand, using the finest products available. There are no preservatives in our chocolate, nor is there caffeine in our white chocolate. We make everything in small batches to ensure freshness, and request that large orders be placed in advance of your event. Our chocolates have a shelf life of 90 to 120 days.
Owner, Debbie Stephens, previously operated a store in Florida, which opened in 1992. Upon deciding to move to N. Carolina, she sold the store in Florida in March 2010 and opened a new shop in Gibsonville, staying true to the concept of making each piece by hand. We stock thousands of candy molds and can make chocolates in just about any shape you can imagine.
We can also custom order molds of your company logo and produce pieces for your events or holiday gifts. Simply give us your logo and we'll do the rest. If you prefer, we are able to do the same thing in the form of custom wrapped candy bars, in 3 different sizes and price ranges. We never require a minimum order and do not charge extra for "rush" orders. Whenever possible, your chocolates can be made the same day.
Our Process
The custom wrapped candy bars are examples of previous orders. Please understand that your candy wrappers will be made to your specifications and will be designed for you only. The images you see are by no means the only options you have. I will make your wrappers in any design you like. Just tell me your idea or theme and we will proceed from there. Generally, I only need a few days lead time, depending of course on the number of bars you need. You always have a choice of milk, dark or white chocolate and there is a minimum of only 12 bars.
We have a full retail store and hope that you will stop by and see our line of chocolates, wedding and baby favors, gift basket ideas, or just to discuss ideas for your next special event. We are happy to provide you with a sample of an item you may be considering. For those of you with peanut allergies, you can be assured that items made here have not been exposed. Please be sure to advise us of this and we will make sure your selection is safe.
Please take a few minutes to browse our site. Call or email any questions and we can discuss pricing, availability, packaging or any other concern you may have. Thank you for visiting our site and we hope to see you soon.
For your convenience, we accept the following forms of payment: Visa, Master Card, American Express, Discover Card and Debit Cards. All on-line orders require payment at the time the order is placed. You may call in your credit or debit card information. We no longer accept personal checks.
TO PLACE AN ORDER, YOU MUST CALL THE STORE. WE DO NOT USE A SHOPPING CART!